Nikki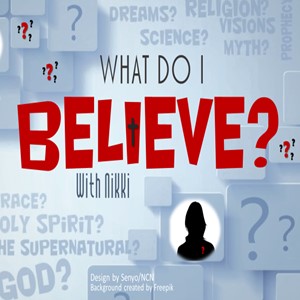 WHAT DO I BELIEVE?
In today's world, questions often arise about what to believe and how to know if what you believe is true. The core purpose of the What Do I Believe? program is to guide our listeners in answering these questions in an intriguing, interactive and informative way!
Make a date on this station as host Nikki engages and interviews everyday people and special guests from around the world!
OUR VISION:
What Do I Believe? addresses the common struggles and challenges often associated with identifying a basic Christian Worldview.
The program seeks to build bridges of clarity with God-inspired information and scriptural insight to some of the most challenging worldview questions facing young Christians today.
GOALS:
What Do I Believe? prayerfully endeavors to create a space where listeners can encounter freedom, joy and encouragement coupled with the wisdom, experience and Christ-like example that comes from everyday people who are continuously submitting to the direction of the Holy Spirit. As the program tackles particular themes, we pray that it will:
Promote a message of hope through Jesus Christ.

Promote an atmosphere where listeners can feel encouraged, comforted, and strengthened through practical and spiritual offerings from seasoned and skilled Believers.

Act in alignment with the premise/values of Power of Worship Radio.

Build a cyber-safe house for listeners to learn, grow and network with other Believers.
To this end, we are committed to praying for every listener, segment, and guest.
Some of our broadcasts will address:
Worldview (What do I believe, Why do I believe it?)

Identity crisis

What is God calling me to do?

Unforgiveness

Lust or Bust?
Contact Nikki